产品描述
Rugged waterproof bluetooth speaker, rechargeable bluetooth 4.2 speaker
Fantastic audio music and easy Bluetooth pairing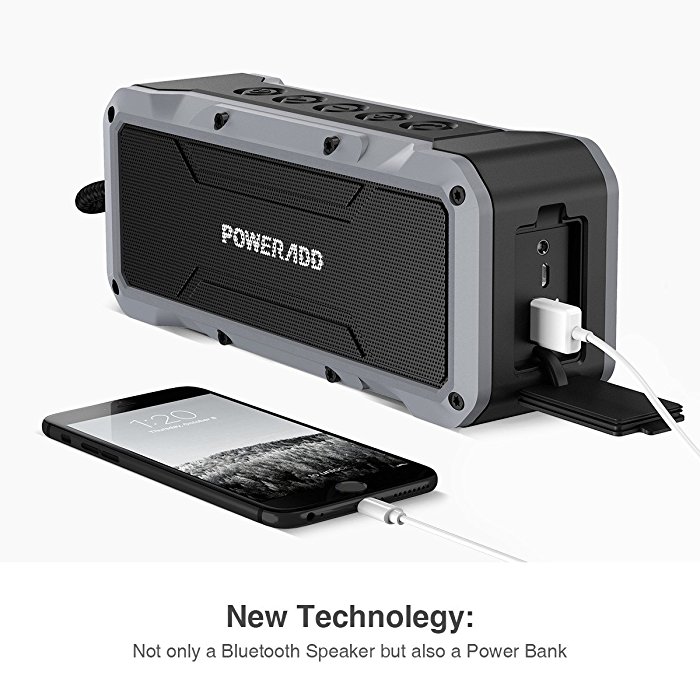 Waterproof Rechargeable Bluetooth Speaker
This Poweradd MusicFly Bluetooth speaker is rated at IPX7 Waterproof.
You can use it conveniently for your outdoor activities.
The IPX7 waterproof speaker lets you enjoy the best quality stereo sound.
You'll be greatly impressed with the superb deep bass and overwhelming surround sound effect.
The rugged waterproof Bluetooth speaker is equipped with 2x13W and 2x5W built-in speaker drivers to create great sound effect.
The speaker is powered by a built-in 4000mAh battery which enables the speak to play for up to 24 hours continuously.
Poweradd MuisckFly Bluetooth speaker also works as a portable power bank.
Most Durable Bluetooth Speaker:
Poweradd MusicFly Bluetooth speaker is one of the most durable Bluetooth speakers on the market. It's specially made for outdoor activities. The IPX7 waterproof speaker is made of durable quality ABS material, making it strongly resistant to dust and dirt, water splashes, water droplets, sand and wind etc. You can enjoy the beautiful music and great conveniences using the Bluetooth speaker outdoors. The speaker has a hands-free call function. When Bluetooth is successfully paired, press the hands-free button to enjoy easy, clear phone calls with this speaker. The speaker comes with a 3.5mm Aux cable. It's widely compatible with iPhone, iPad, Samsung Galaxy phones, laptops etc.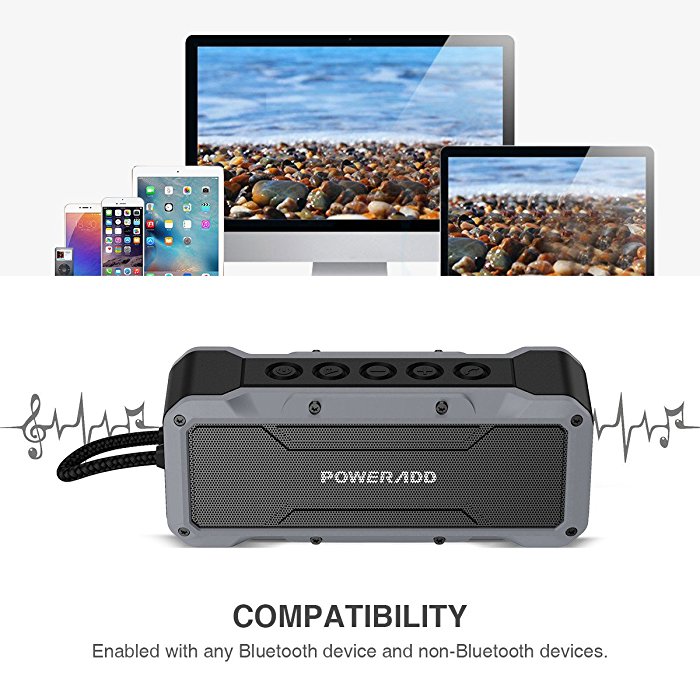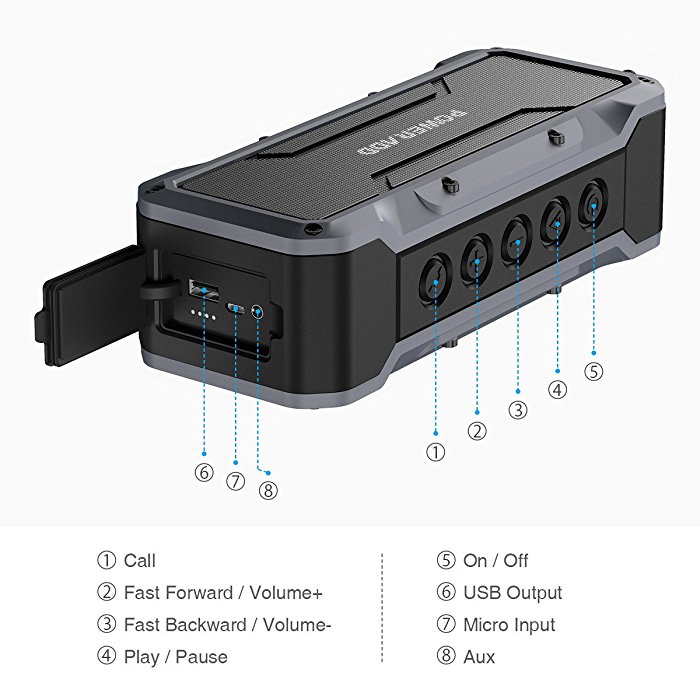 Bluetooth Speaker Specification:
Model: Poweradd MusicFly
Material: Silica Gel
Bluetooth Version: CSR 4.2
Battery : Li-ion Battery 4000mAh/7.4V
Recharging Time: 8-10 hours
Playtime: Up to 24 hours (lowest volume)
SNR: 80dB
Distortion: 1%
Speaker Output: 13Wx2+5Wx2
Speaker Size: 57*57mm/24*24mm
Working Temperature: -10℃ – 45℃
Housing Hardness: 20 HB
Dimensions: 227*64*88mm
Weight: 1045g