Product Description
1800W 15A Swivel Power Strip 6 Outlet Surge Protector With USB Ports
Brand New Upgraded Rotatable Power Strip: UL listed Poweradd 6-Outlet Swivel Power Strip Surge Protector with Dual 3.4A Smart USB Ports, 6-Foot 15A Heavy Duty Cord 1080 Joules Surge Suppressor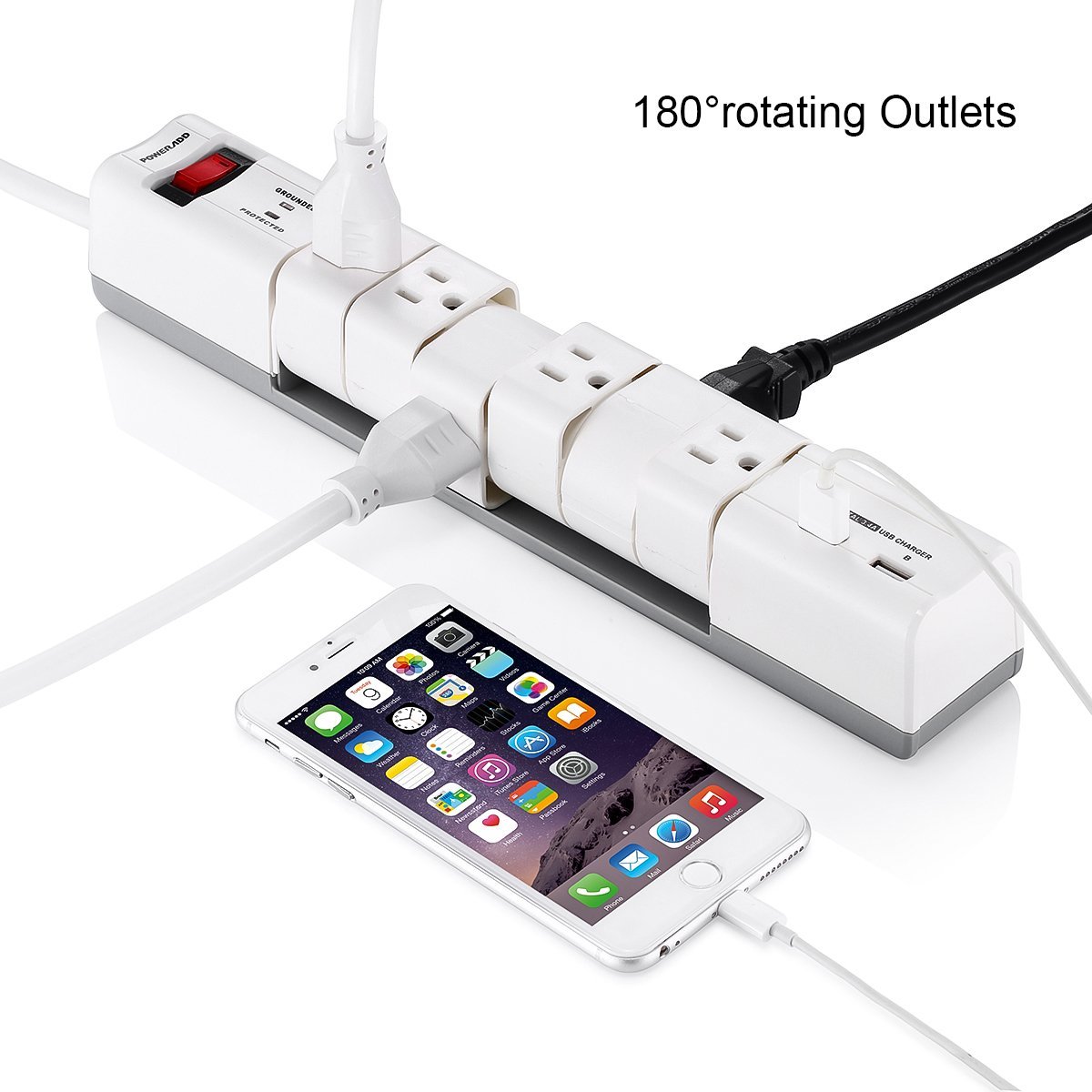 Rotating Surge Protector Power Strip

Advantage: 6 x 180° rotating power strip offers convenient position to connect your devices and AC surge suppressor keep your computer/laptop, home theater system and other devices away from voltage spike and more.
Ultimate fireproof and safety surge protection with the most advanced X3 MOV technology.
Resistance of 1080 joules surge energy and 72000 amps maximum spike current protect every electronic device in your house.
2 USB ports (3.4A combined) and 6 * 180°rotating outlets for convenient usage, 3-line surge protection for each outlet.
Thermal fuse, EMI/RFI filter, surge protected and grounded indicator kill every potential damage.
6 Outlets Rotating Power Bar With USB Ports
Each outlet can be rotated 180° to different direction, you will not feel crowded at all even full of 6 plugs on this power strip. Mounting slots on the bottom of the strip allow it to be wall or cabinet mounted. (screws not included). This Power Strip with dual USB design has 2 USB ports (smart 3.4A) available for USB devices, charging your tablets, smartphones & digital cameras and more.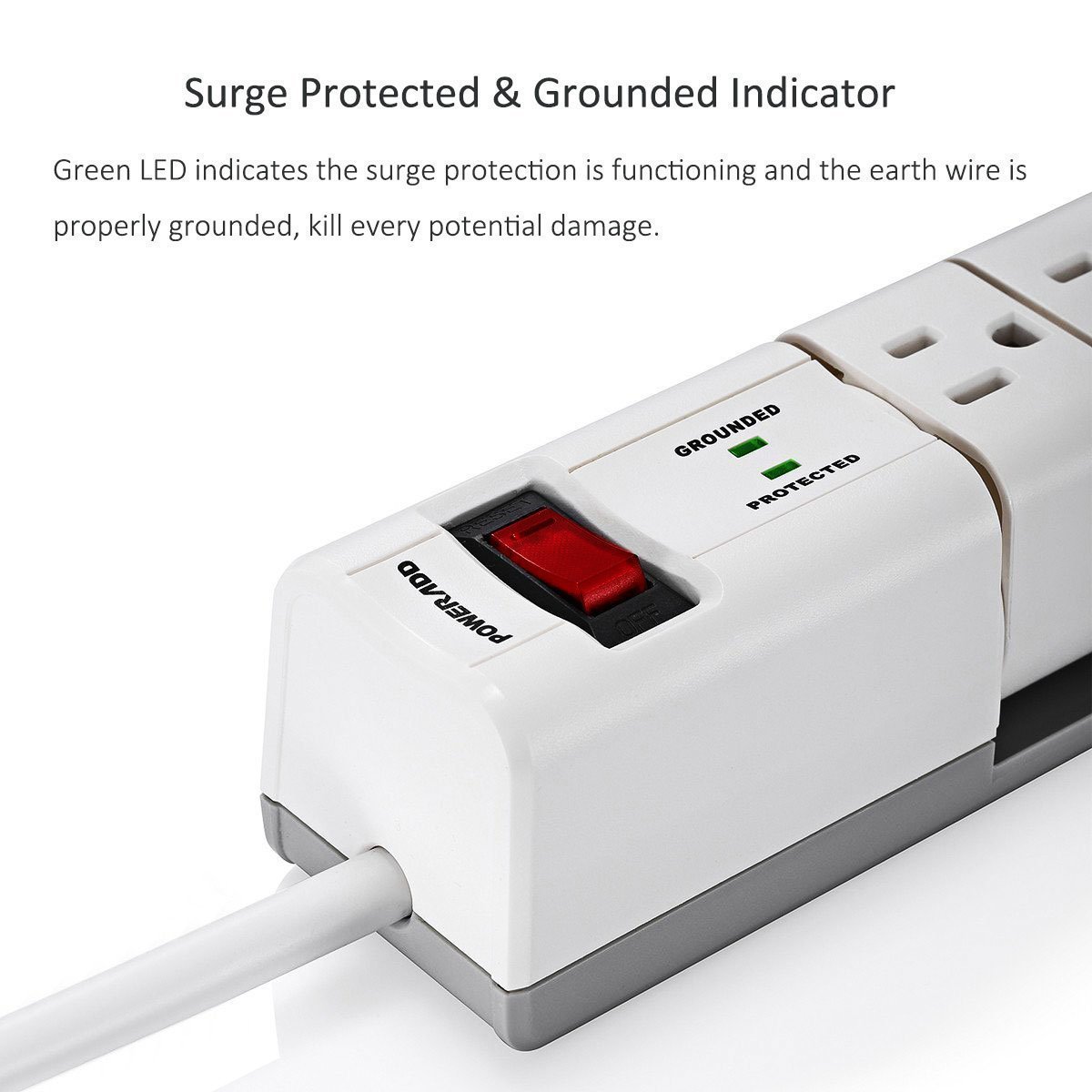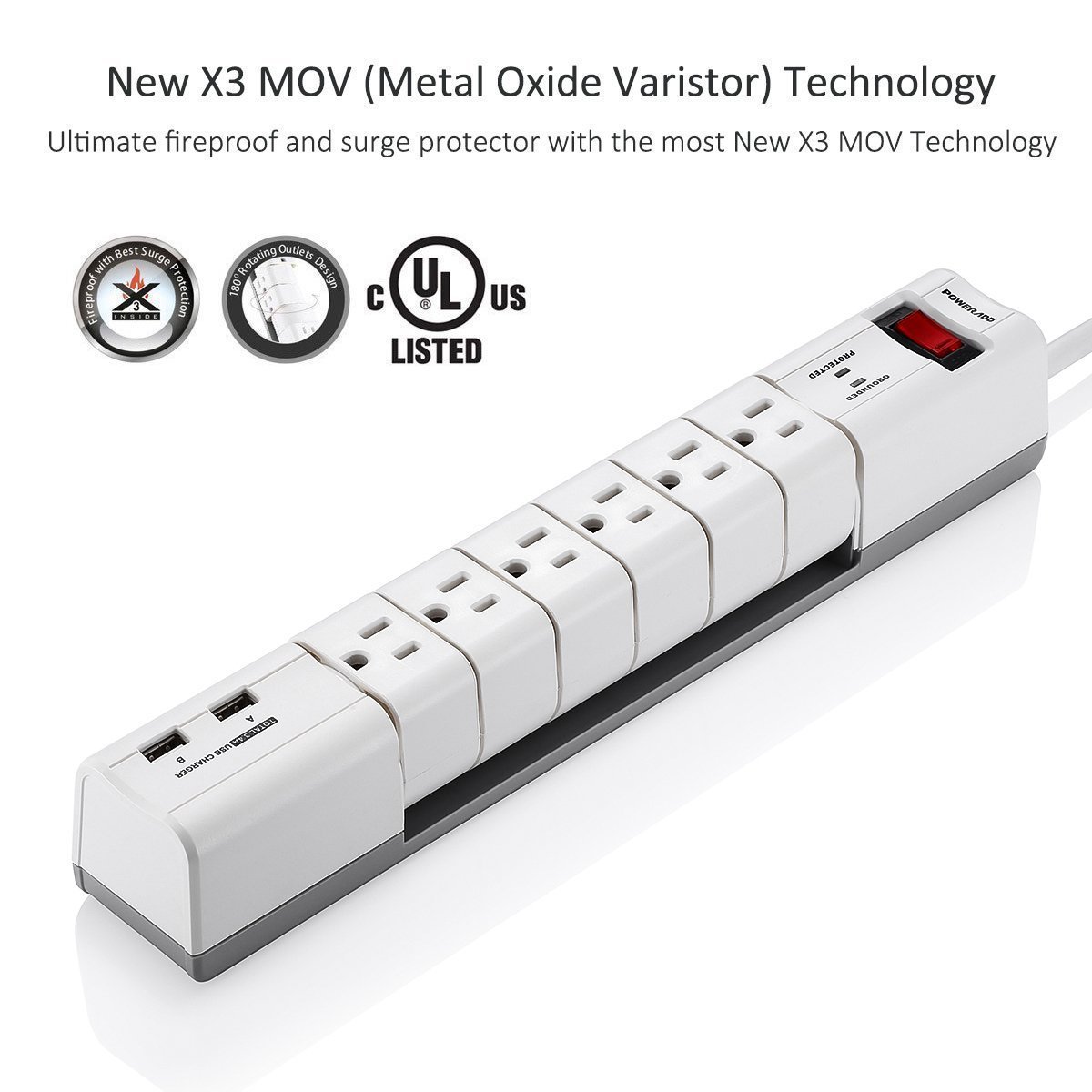 Reliable Surge Protection
This surge protector provides 540 joules of surge suppression to prevent voltage spikes from damaging your electronics. This white power strip has two built-in LEDs to let you know if your electrical appliances are properly connected to a wall outlet and the LEDs clearly indicate if the surge protection is available.
Swivel Power Strip Specification
Electrical Rating: 15A, 120V, 60Hz, 1800 Watts
Surge Line Protected: 3-Line (L-N, L-G N-G)
UL Clamping Voltage: L-N 500V, L-G 500V, N-G 500V
Surge Energy Joule Rating: 1080 Joules
Maximum Spike Current: 7200 Amps (3 Line Total)
Response Time: <1 nanosecond="" p="">
Maximum Spike Voltage: 6KV
EMI/RFI Noise Filter: Frequency: 150KHz~100KHz
Attenuation: Up to 40 dB
USB Charger: 2 USB Charger Ports (Total 3.4A)