产品描述
24K Gold Plated Banana Plug Speaker Connector , Fast Lock Banana Plugs
Poweradd Fast Lock Banana Plugs have Corrosion Resistant 24K Gold Plated Connectors for Musical Audio Speaker Wire, Wall Plate, Audio/Video Receiver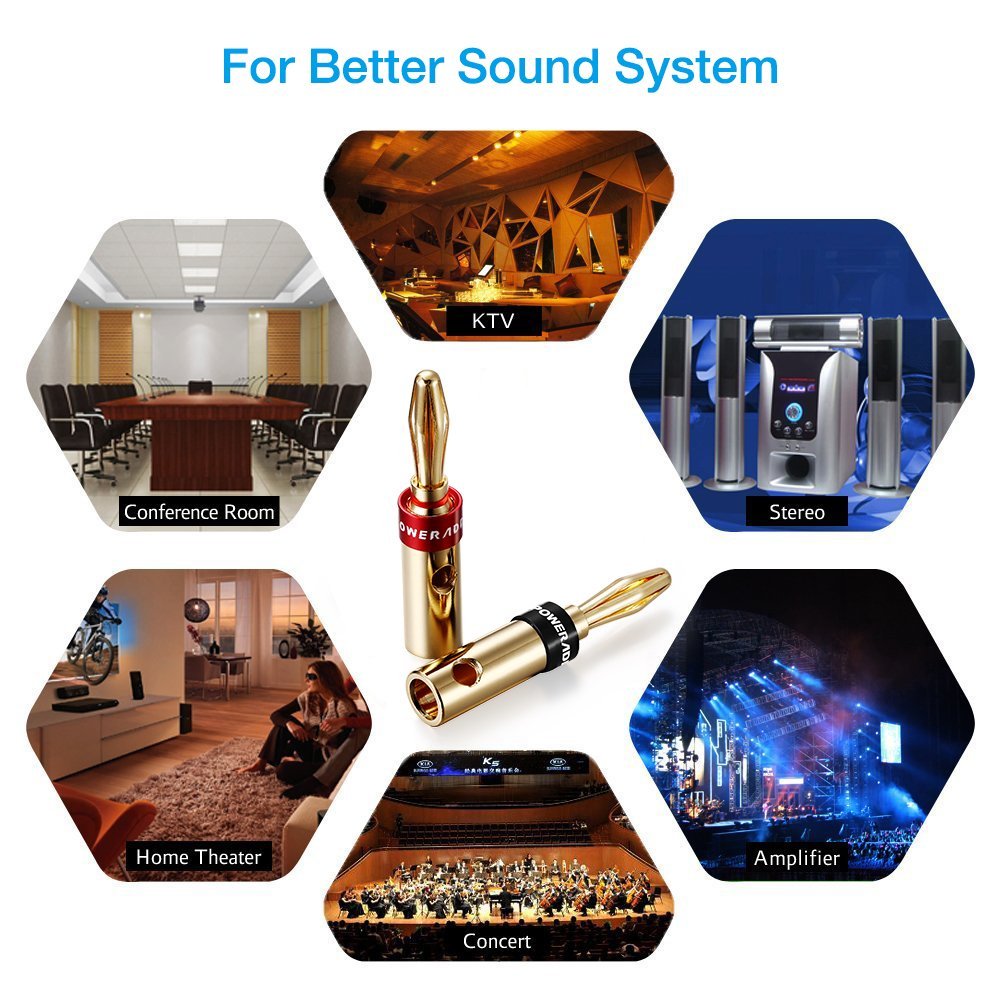 Banana Plug Connectors Features:

6 Pairs of Banana Plug Connectors: Ensure the best connection from your speaker wire to your receiver with high quality signal path like a speaker to an audio/video receiver, amplifier or other professional sound application.
24K Gold Plated Banana Plugs: Poweradd fast lock banana plugs are made of premium gold plated brass. The long lasting corrosion resistant plugs give you stable connection for your audio devices.
User-friendly fast-lock plugs: they are easy to install and work perfectly with bare wire or spades, 10 to 18 AWG speaker wires.
Convenient design: the plugs have color coded black/red design for maintaining proper polarity.
Solderless reliable connection: highly durable rugged plugs feature advanced fast lock technology.
Poweradd High Quality Banana Plugs

Poweradd 6 pairs of fast lock Banana Plugs have impressive performance with the corrosion resistant 24K gold plated connectors and durable pure copper. These plugs offer you reliable connection for your audio components.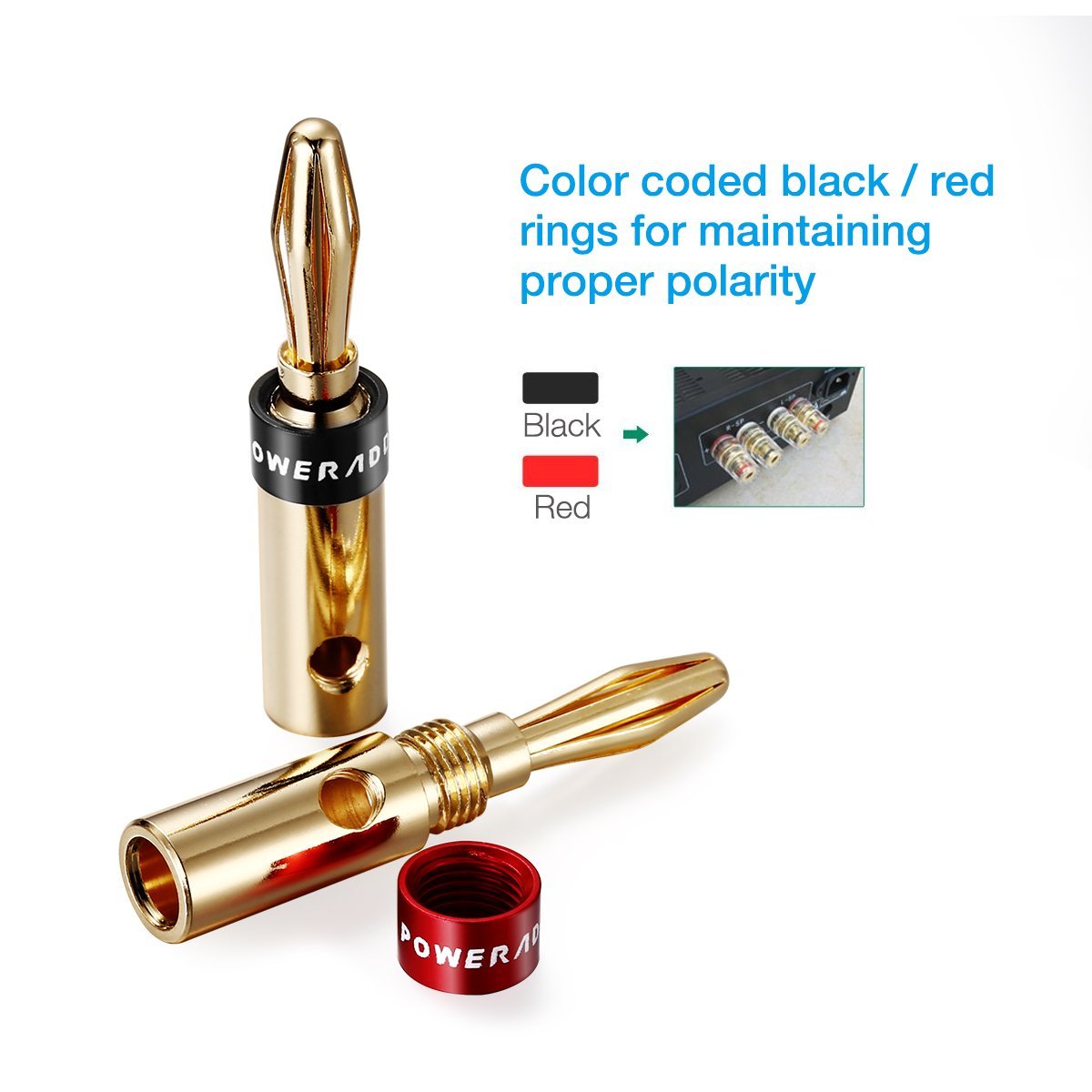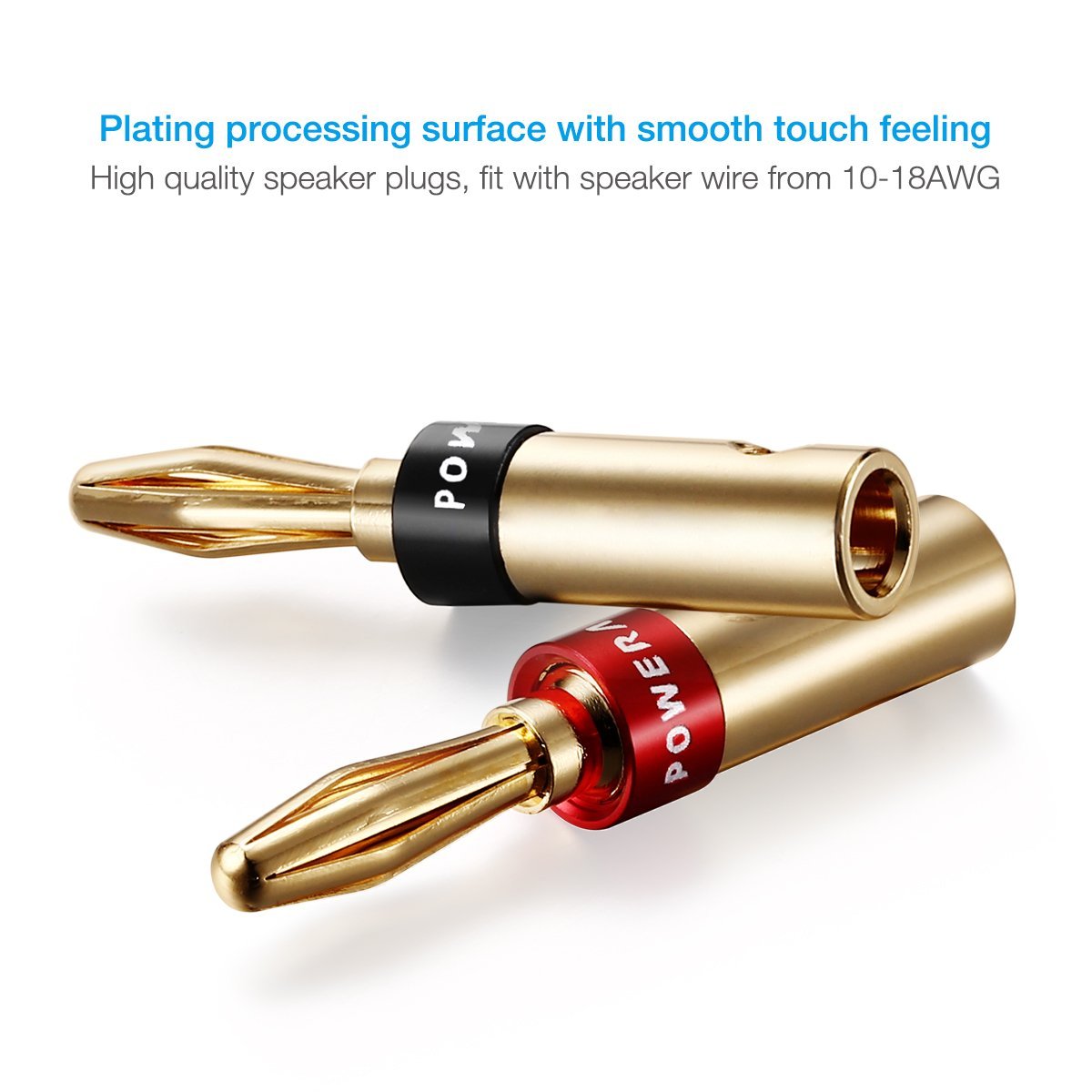 Easy to Connect

Poweradd fast lock banana plugs for speakers and audio are the latest and most user-friendly plugs. They are designed with smart color coded red and black marks for you to easily identify the polarity during connection.
Compatibility:
Poweradd Banana Plugs are widely compatible with audio devices such as a speaker, audio/video receiver, amplifier etc.
The closed screw banana plugs  can work perfectly with bare wire or spades from 10 to 18 AWG.
Kind Notes
If you need to use these plugs for wires above 12 AWG, please double over the wire in order to get it fastened by the screw. Each pair of these plugs comes with red and black design for you to enjoy easier installation without confusing the polarity.