Product Description
Compact 1 in 4 out HDMI Splitter
High quality gold-plated interface for better signal transmission quality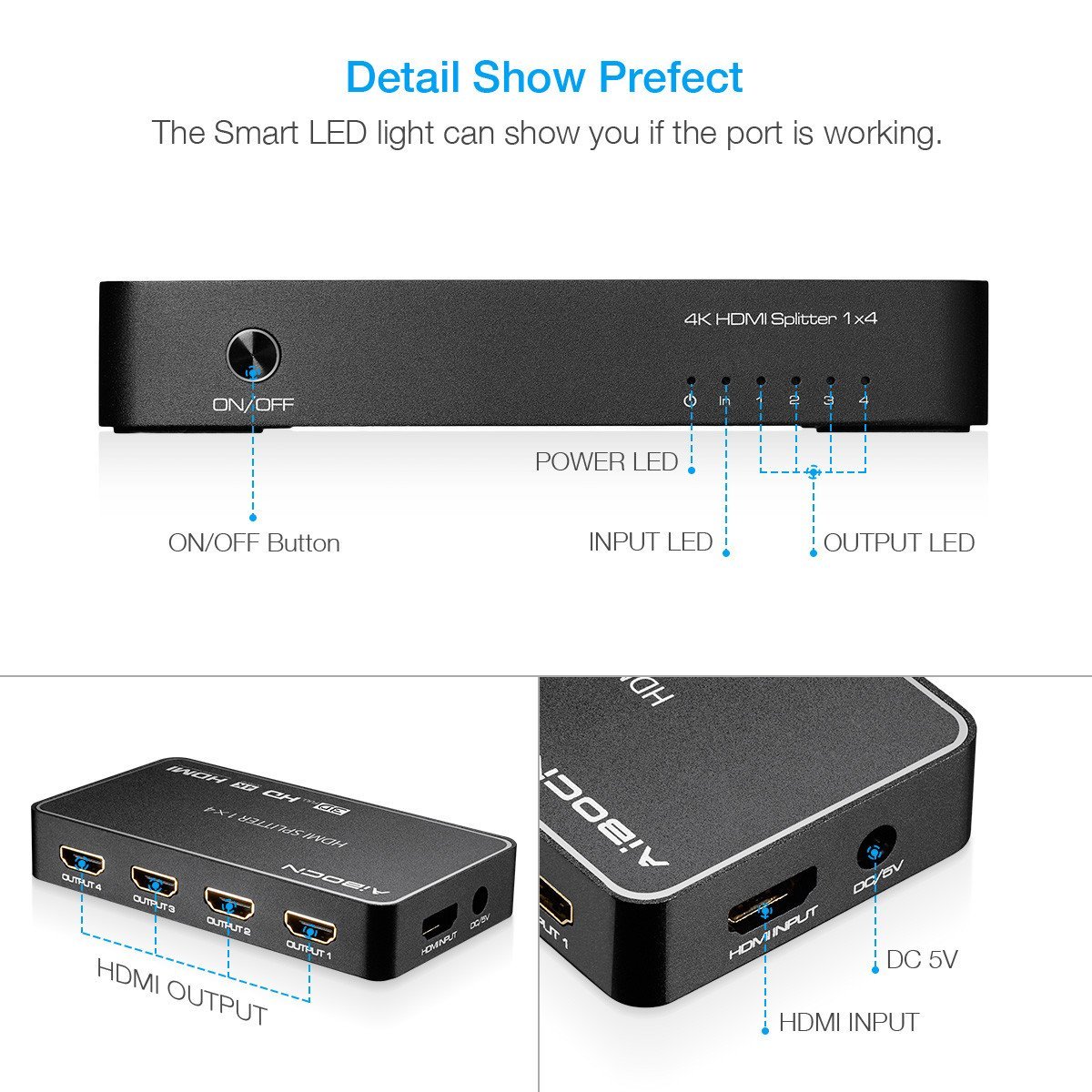 Full HD 1 X 4 HDMI Splitter:
This HDMI splitlter is able to distribute 1 HDMI source to 4 HDMI displays simultaneously without loss in quality.
It almost supports all available audio options: DTS-HD/Dolby True HD/ LPCM 7.1/DTS/Dolby-AC3/DSD master audio.
It supports 576i/576p/720p/1080i/1080p/4k Resolution & 3D, Deep Color 30bit, 36bit, 48bit per pixel.
Output Video: HDMI 1.4a + HDCP1.0/1.1/1.2/1.3, Input Video Signal: 0.5-1.0 volts p-p, Input DDC Signal: 5 volts p-p(TTL).
This 1 X 4 splitter comes with a 5V AC adapter for more conveniences in use.
Advanced HDMI Splitter with Protection:
Aibocn uses the most advanced HD technology for this HDMI splitter. It widely supports 576i/576p/720p/1080i/1080P/4K and 3D Data transfer. You can feel relaxed to enjoy super HD movies and videos at home. The spilitter is designed to work for HDMI devices, such as PC, x-box, STV/Blu-ray, hd player ,PS3/4 and other devices and displays. It has an integrated advanced chip to optimize the high definition quality. This Aibocn HDMI Splitter is a reliable splitter unit with safe power supply. When current exceeds the predetermined maximum, the protection device starts the automatic protection mode (with the 5V 1A power adapter).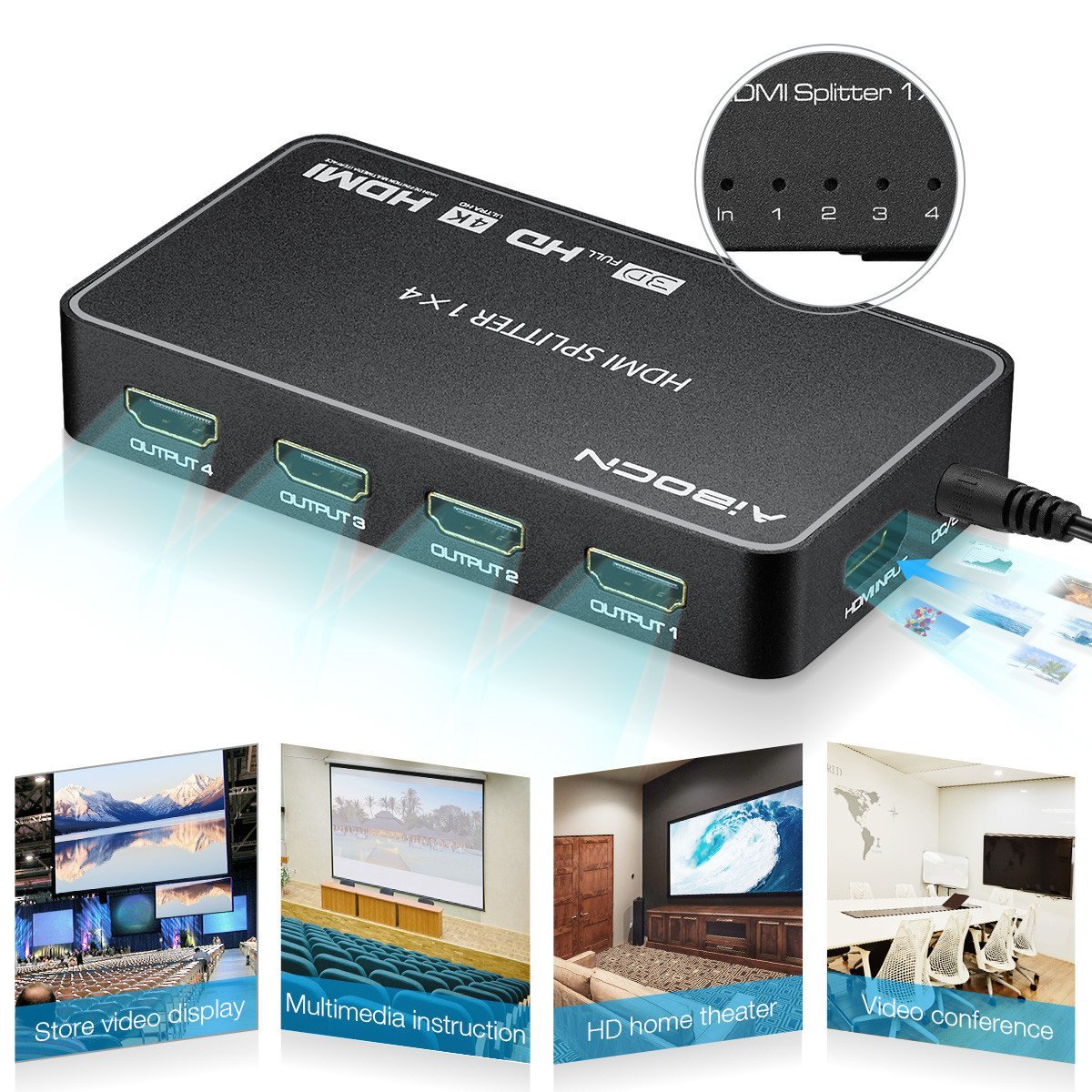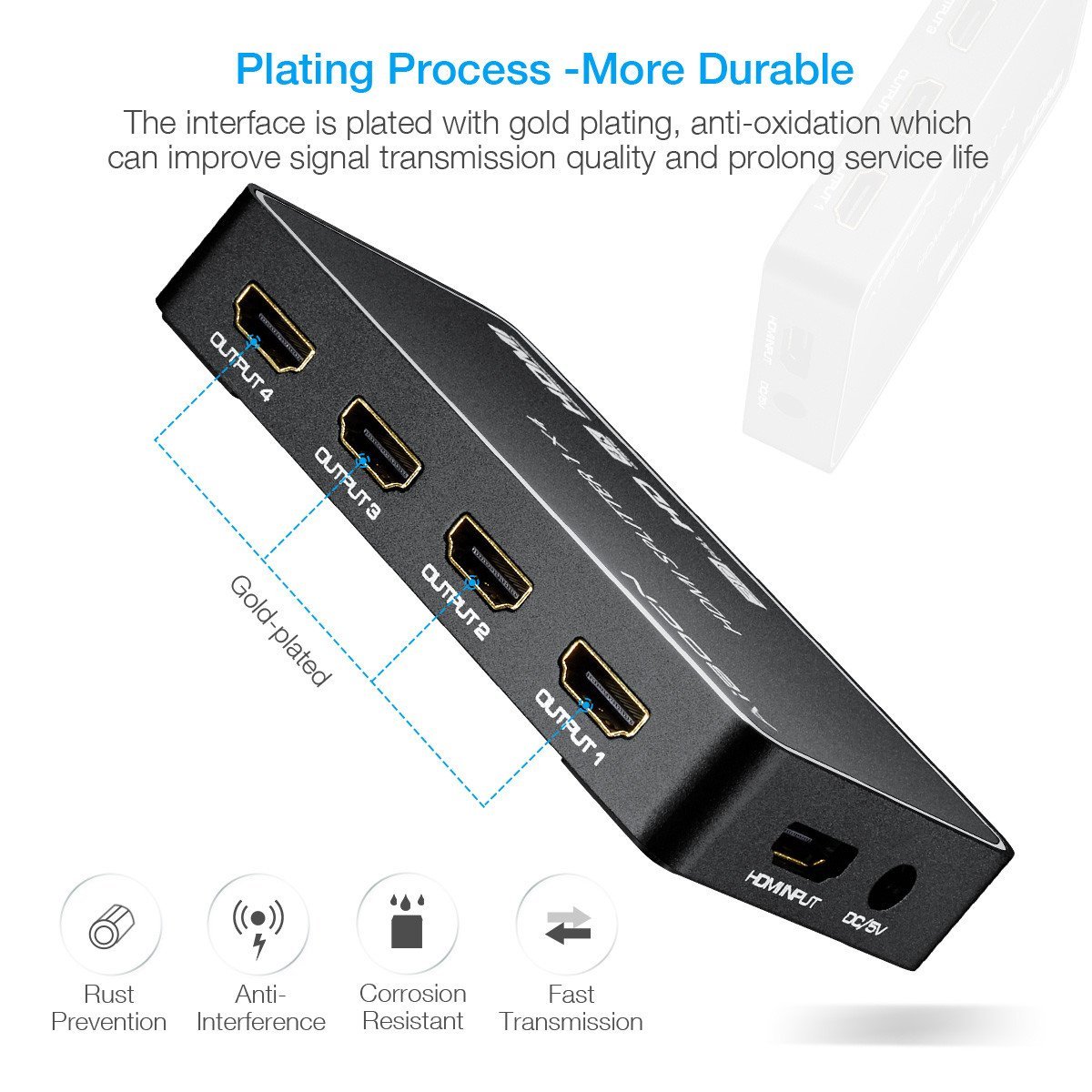 Specification:
Frequency Bandwidth: 2.97Gbps
Power Supply: DC 5V 1A
ESD Protection Human Body Model: ±8KV (air-gap discharge) ±4KV (contact discharge)
Support Deep Color: 30bit, 36bit, 48bit per pixel
Dimensions: 116 * 64 * 20mm
Weight: 195g
Operating Temperature: 0°C ~ 40°C / 32°F ~ 104°F
Storage Temperature: -20°C ~ 60°C / -4°F ~ 140°F
Power Consumption(Max): 5W