产品描述
10W Fast Wireless Charger Charging Pad for Samsung Galaxy S7 S8 S8 Plus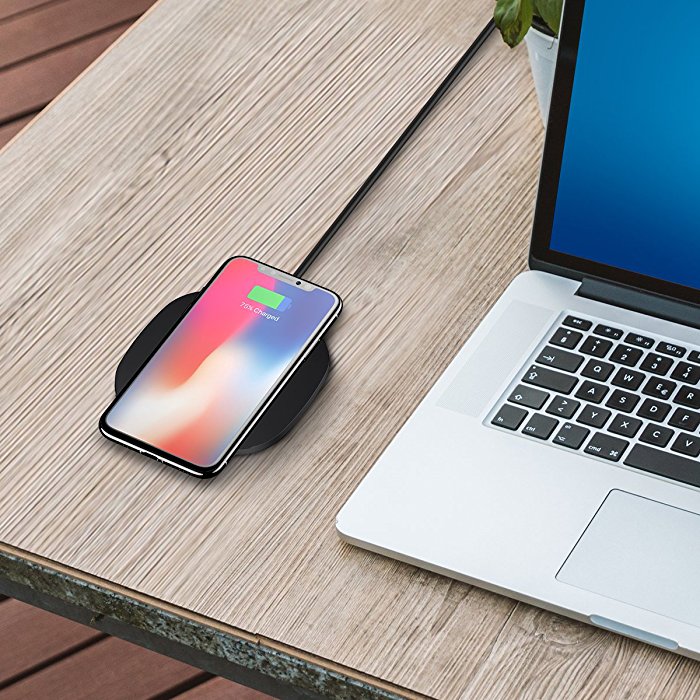 Portable Qi Wireless Fast Charging Pad:
Poweradd Qi wireless charger charging pad features a Fast Charging Mode and a Regular mode, which can be ideally used for different Qi-enable devices.
The Qi charger can charge your devices twice as fast as standard wall chargers, USB adapters on the market.
The wireless charger's Fast Charging Mode is perfectly fit for Samsung S6 Edge+, S7, S7 Edge, S8, S8 Plus, Note 7, Note 8.
The Regular Charging Mode allows you to charge smartphones and other Qi-enabled devices, such as iPhone X, iPhone 8, iPhone 8 Plus, Samsung S6 Note, S6 Duos, S6 Active, Note Edge, Nexus 4, Nexus 5, Nexus 6, Nexus 7, Lumia 822, HTC phones etc.
This Qi standard wireless charger is a most updated advanced charger that lets you enjoy easy, quick charging wirelessly.
The wirelss charger has a compact, portable design. The decent size and durable thickness enables you to use it conveniently both indoors and outdoors.
Wireless Charging Pad Compatibility:
10W Fast Charging Mode:
Samsung: S6Edge+, S7, S7Edge, S8, S8Plus, Note7, Note8
(Fast charging mode needs to work with QC2.0/3.0, which is not included. If you charge with normal adapter, then it works in regular charging mode.)
5W Regular Charging Mode:
Apple: iphoneX, iphone8, iPhone 8Plus
Samsung: S6, S6 edge, S6 Note, S6 Duos, S6 Active, Note edge
NOKIA: Lumia822, Lumia830, Lumia735, Lumia920, Lumia929, Lumia820, Lumia1020, Lumia1520
HTC: HTC Droid DNA (US Version), HTC 8X (US Version), Incredible 4G LTE/Butterfly (US Version), One Mini2, One M8 Eye (M8Et/ China Mobile 4G), One E9 (E9t/ China Mobile4G), Butterfly (China Mobile4G)
Google: Nexus4, Nexus5, Nexus6, Nexus7
LG: G2 (US Version), G3 back shell, 4 contact versions (US Version), G Pro
SONY: Z3V, Z4V
MOTO: droid5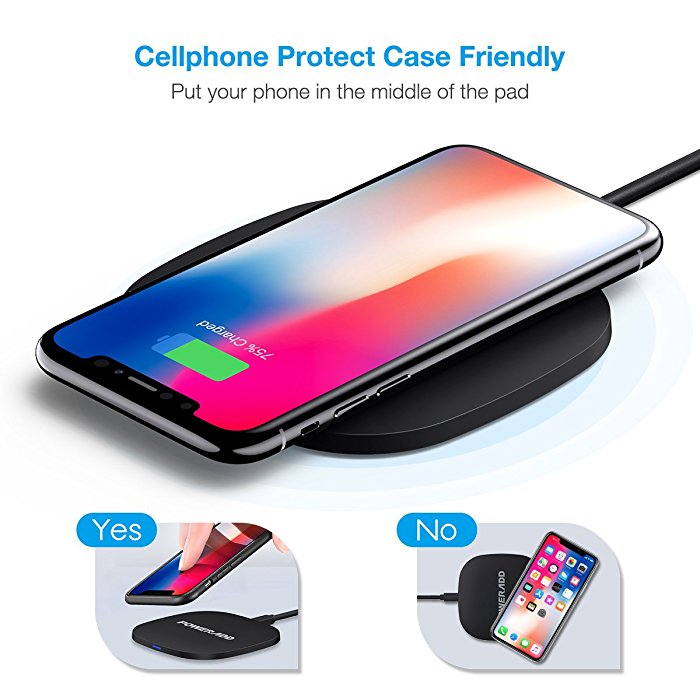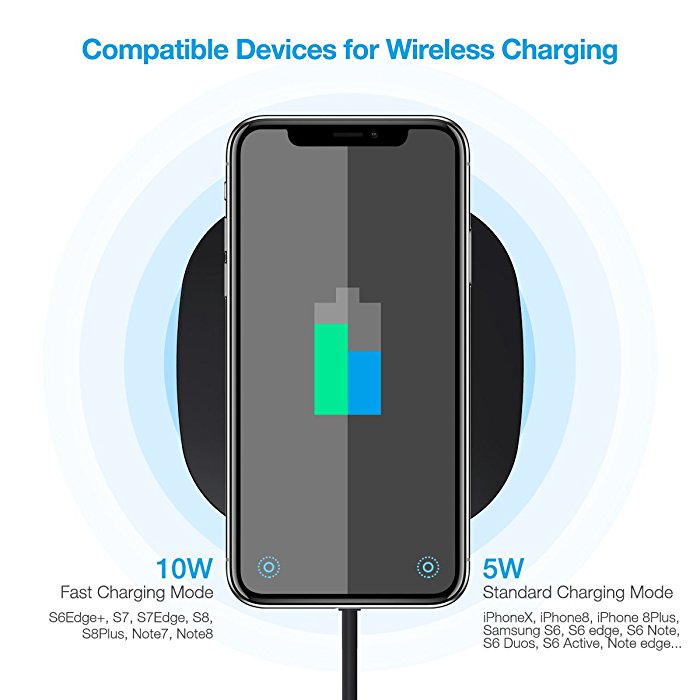 Specification:
Wireless Charging: Qi Standards
Input: DC 5V-2A,DC 9V-1.67A
Output: 10W Max.
Charge Efficiency: ≧76%
Item Weight: 2.22 oz
Size: 3.94*3.94*0.3 inches
USB Cord Length: 39.4 inches/1 meter