Product Description
50 Watt 18 Volt Powerful Solar Panels High Performance CE FCC Certified
22%-25% efficiency for solar power transmission
High Efficiency Solar Panel USB Charger
Poweradd Solar Panel: Optimal current and voltage for maximum power getting from the sunlight, offering the quickest output current, up to 2.7A under direct sunlight.
High Efficiency Solar Charger: With premium built-in SUNPOWER solar cells from US, it features 22%-25% efficiency, compared with most panels(only 15% efficiency) in the market.
Dual-Port Output: USB port (5V/2.8A maximum) for charging your 5V powered gadgets, and 18V DC output (18V/2.1A maximum) for charging your laptop or other 18V powered devices.
Certified Quality: CE, FCC & RoHS certified highly safe product: Grade A materials and premium circuitry ensure its best performance and reliability.
Total Protection: The built-in protection system effectively prevents over current & voltage, over charging and over heating for better performance.
Upgraded Foldable 50 Watt  Solar Panel
Poweradd 50W foldable solar panel has excellent solar conversion efficiency, up to 22% to 25%, which enables the solar panel to get power from the sun faster and transfer power to your devices with quick output.
This solar panel is designed with unique voltage regulator stablizes voltage and current during charging, and prevents devices from getting damaged. This unique voltage regulator in this solar charger will greatly prolong battery life.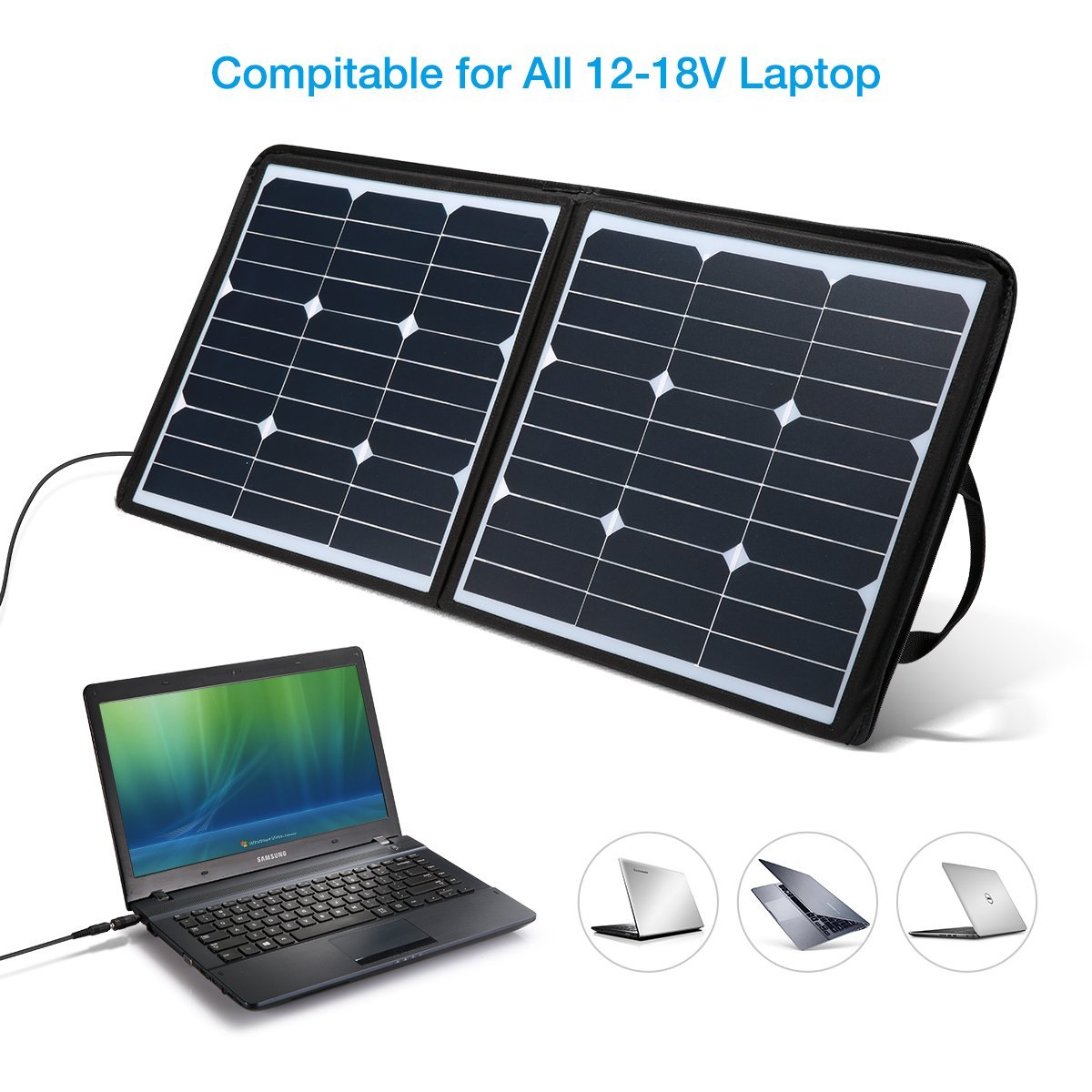 Wide Compatibility:
5V USB port: Smartphones, Tablets, iPod, iPad, iPad mini, external battery packs, and other 5V USB devices( except for Bluetooth devices under 50mA). 18V DC port: Charging 18V/2.1A laptops, 12V car battery and other 18V2.1A DC-powered devices.
Reliable Quality & Safety:
This solar penal is certified by FCC, RoHS and CE. It has good quality and protection against short circuit and surge to keep your devices safe and long lasting.