Product Description
Stylish Classic Power Bank Black Portable Charger With Lightning Input
Poweradd 10000mAh High Performance Power Bank Battery Charger With Lightning Input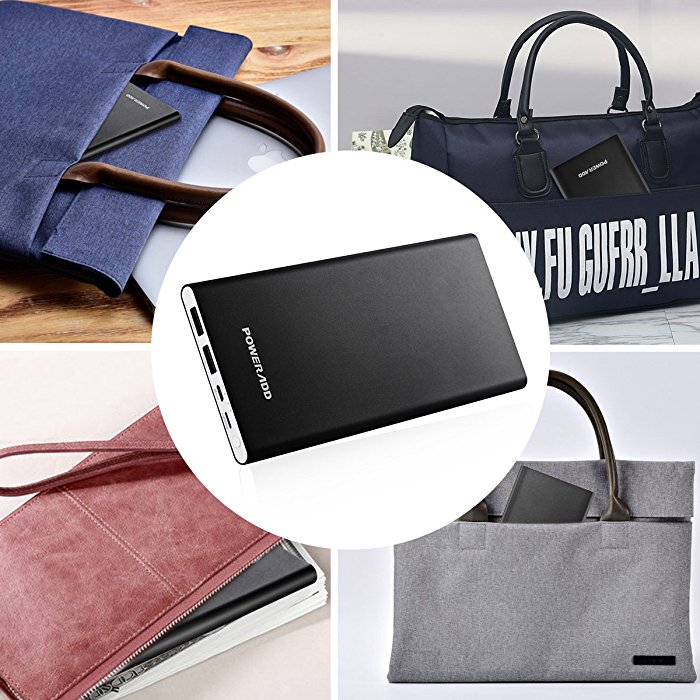 10000mAh Compact Size Power Bank

Poweradd Pilot 4G battery power bank charger contains a powerful 10000mAh battery which can store a world of power. When the Pilot 4G battery pack is charged up, it can provide your devices a great amount of power. For example, the battery pack can fully charge all iPhone 6S four times, or a Galaxy S6 2.5 times. If the Pilot 4G power bank is left unoccupied, the internal reserved power can be well kept for future use for six months.
2 USB Ultra Fast Charging Power Bank
Poweradd Pilot 4G 10000mAh Apple Lightning Portable Charger has two USB ports, featuring 5V/3A(Max) for each port, and a lightning port 5V/2A input. The 2 USB power bank are available for two of your devices to charge simultaneously, which is obviously time-saving, practical and humanized. The 5 V/3A(Max) ports give your device the fastest charging time. And the micro USB port is used to charge Pilot 4G itself beforehand or to charge micro-USB-enabled devices. Pilot 4G power bank can be charged by the USB port as well. Besides, Pilot 4G power bank has more than 500 charge cycles during its span of life. This portable power bank comes with a lightning 8-Pin cable and a Micro USB cable, allowing you to charge an iPhone 6S and a Samsung Galaxy S7 at the same time with Pilot 4G.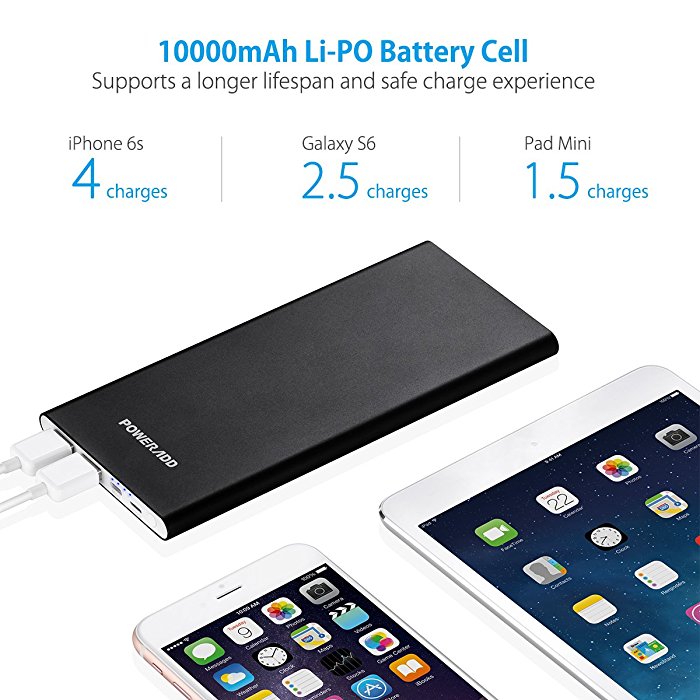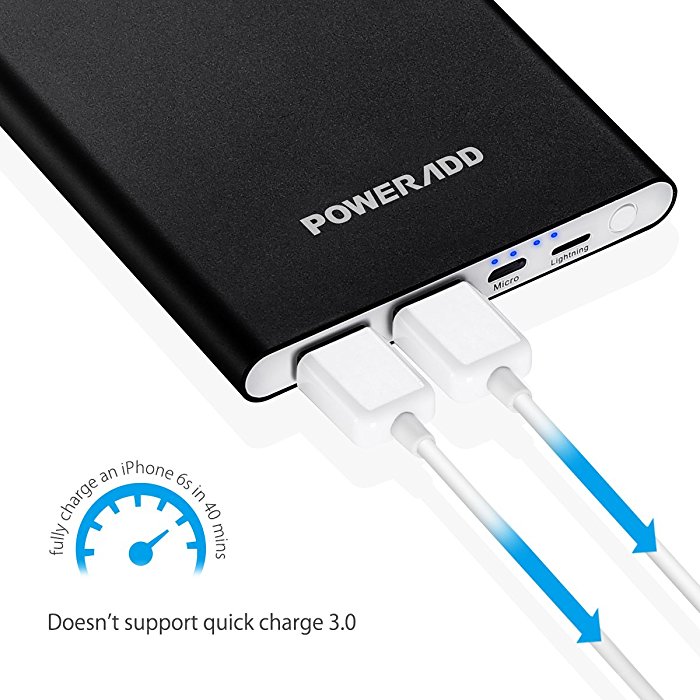 Intelligent Protection Battery Charging Bank
Pilot 4G battery charger portable power bank is constructed with high-tech grade A high-energy lithium polymer batteries which are by far more durable than ordinary ones. The advanced li-polymer battery cells and built-in micro chips can totally cure malfunctioning problems, such as overcharge, over discharge, overheating and short circuit. Your worry-free use and the long life span of both your devices and the battery pack will be completely guaranteed due to reliable intelligent protection.
Creative Appearance Design:
Pilot 4G huge capacity power bank does have a distinctive fashionable appearance, with a small size of 7.9 x 4.3 x 0.9 inches, just slightly bigger than an iPhone. And it weighs in at only 8.8 ounces. The cellphone look-alike lightweight external battery power bank is visibly quite portable for users.