Product Description
C Size / D Size Rechargeable Battery Charger , EBL 908 Battery Charger
Designed to charge AA, AAA, C, D and 9V rechargeable batteries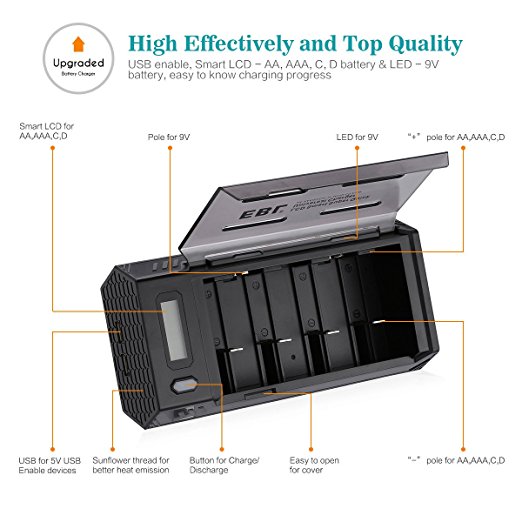 High Technology and Performance
* Controlled by MCU, and using -¡÷V pulse charging, automatically stop charging when charged full.
* Short circuit protection and reverse polarity protection.
* Providing constant current and voltage, overheat-detection to prevent over-charging.
Charging Time Table:
Battery Type (Ni-MH) Capacity Charging time (approx.)
AAA 500-1200mAh 1-3 hours ; AA 1300-2800mAh 1.5-3.5 hours
C 1800-5000mAh 2-6 hours; D 1800-10000mAh 2-10 hours
9V 150-600mAh 5-20 hours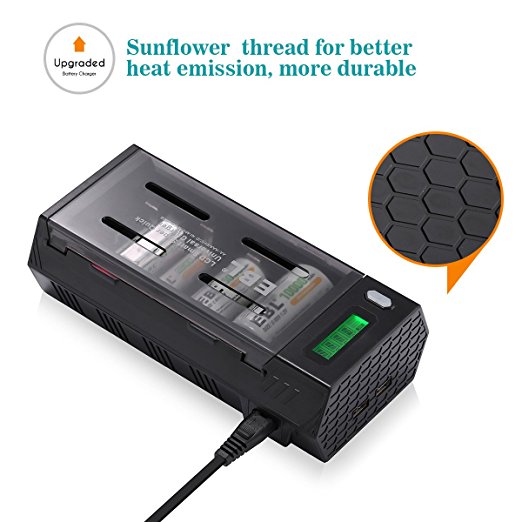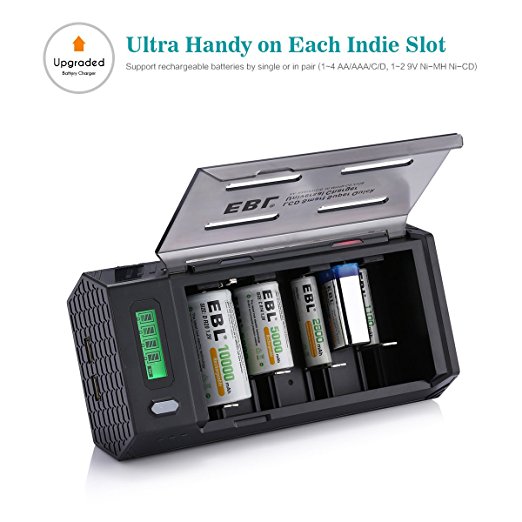 Charger Specification:
Input: 100-240V AC 50/60Hz
Output: AA/AAA/C/D: 1.2V DC*4 1000mA
6F22 9V: DC 30mA ; USB Port = 1.0A*2
Advanced Rechargeable Battery Charger
EBL 908 battery charger is fully compatible with 1-4 pieces AA/AAA/C/D Ni-MH/Ni-CD rechargeable batteries and 1 or 2 9V Ni-MH/Ni-CD rechargeable battery.
2 USB for 5V USB enable devices like power bank, smartphones and tablets iPhone iPad Samsung Galaxy HTC Google Blackberry and so on.
Note: Charge 2 phones simultaneously or charge one tablet.
Do not charge batteries while charging mobile phones with USB ports.