Product Description
EBL iQuick USB Battery Charger For 9V Rechargeable Batteries
Designed for 9V Li-ion Batteries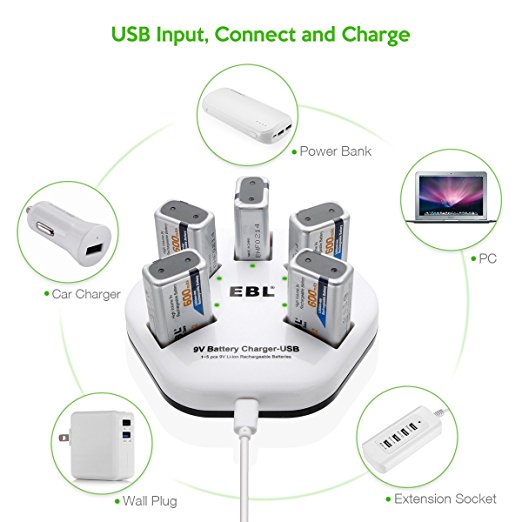 iQuick USB Battery Charger
The iQuick USB charger has 5 charging slots for 9V rechargeable batteries.
The charger can freely charge 1 to 5 9V rechargeable batteries.
The lithium battery charger has smart LED indicators to show the battery's charging level.
It has auto-detection for malfunction during charging, preventing overload, short circuit for your battery charging.
It takes a short time to recharge the charger due to quick input design, 2 amps' USB input port.
Efficient 9V Battery Charger:
This EBL iQuick USB charger can charge 1 to 5 pieces 9V rechargeable batteries freely. It uses an advanced MCU system to manage the charging, which allows you to use the charger in a more intelligent way. When your 9V batteries are fully charged, the charger will stop charging automtically. And it uses the △V and -△V cut-off charging method to optimize the charging efficiency for quick recharges and good maintanence of rechargeable batteries.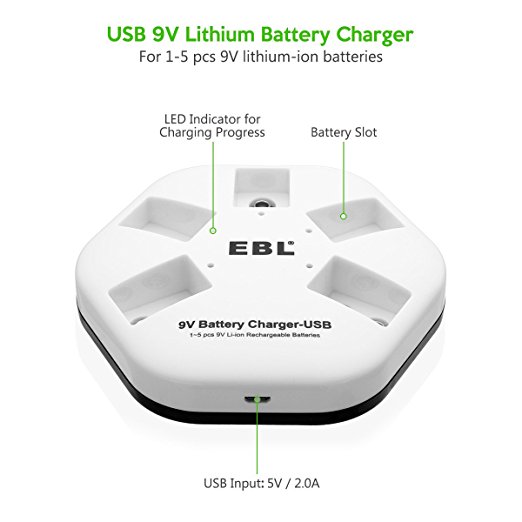 Package Contents:
EBL iQuick USB Battery Charger x 1
User Manual x 1
Micro USB Cable x 1
Eco-friendly Battery Charger
This battery charger for 9V rechargeable batteries makes your lifestyle simple and environmentally-friendly. Because your 9V batteries can be reused instead of being thrown into a dustbin. Use rechargeable batteries repeatedly and keep your devices running in a more energy-saving manner.
Compatible Batteries:
The charger is compatible with 9V rechargeable batteries.