Product Description
2 Slot NiMH NiCD Li-ion Rechargeable Battery Charger
Comes with 2-Pack 26650 5000mAh 3.7V Lithium Rechargeable Batteries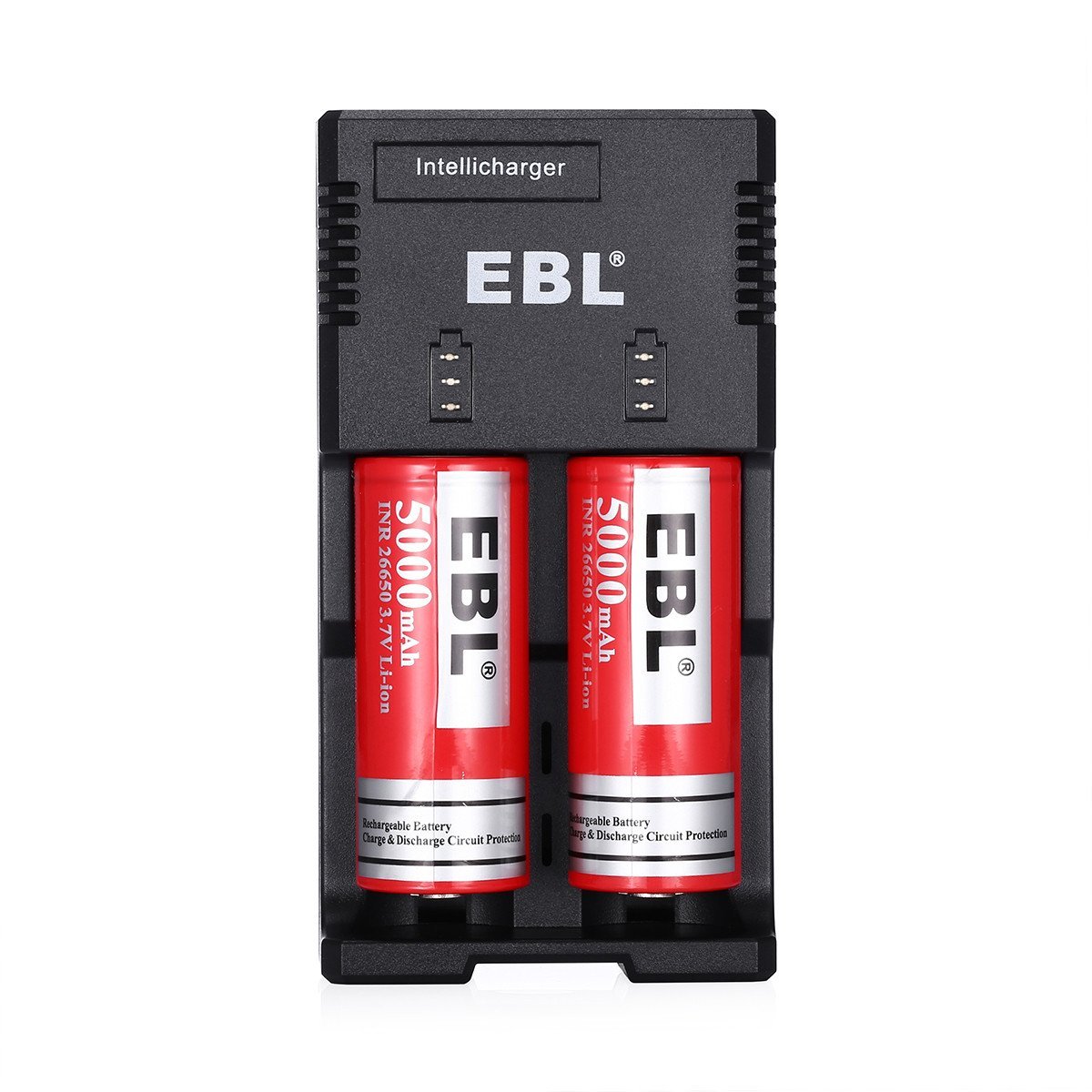 Rechargeable Batteries and Charger Combo
Package: EBL 26650 3.7V li-ion rechargeable batteries (2 Pack) + EBL 992 Ni-MH Ni-CD Lithium battery charger.
992 EBL Intellicharger is widely compatible with 1 or 2 rechargeable batteries: 18650, 26650, 22650, 17670, 18490, 16340 (RCR123), 14500, 10440 Li-ion cylindrical or AA, AAA, C Ni-MH Ni-CD batteries.
The low self-discharge 26650 batteries still keep 75% of capacity after being stored for 3 years.
Advanced MCU Control Technology: The charger will automatically stop charging when batteries are fully charged to prevent over-voltage, over-current and over-heating issues.
Smart LED Lights: The small LED indicators show the charging process, when 3 LEDs are on, it means charge is finished.
EBL 992 Intelligent Battery Charger
This rechargeable battery charger has 2 individual charging slots for 1 to 2 different compatible batteries to charge.
The maximum iQuick charging speed will reach 500mA when charging batteries.
This battery charger can be connected to DC sockets.
It can be used in cars, office, home etc. It has a portable size for travel purpose.
The charger is built with smart LED lights to show the charging process.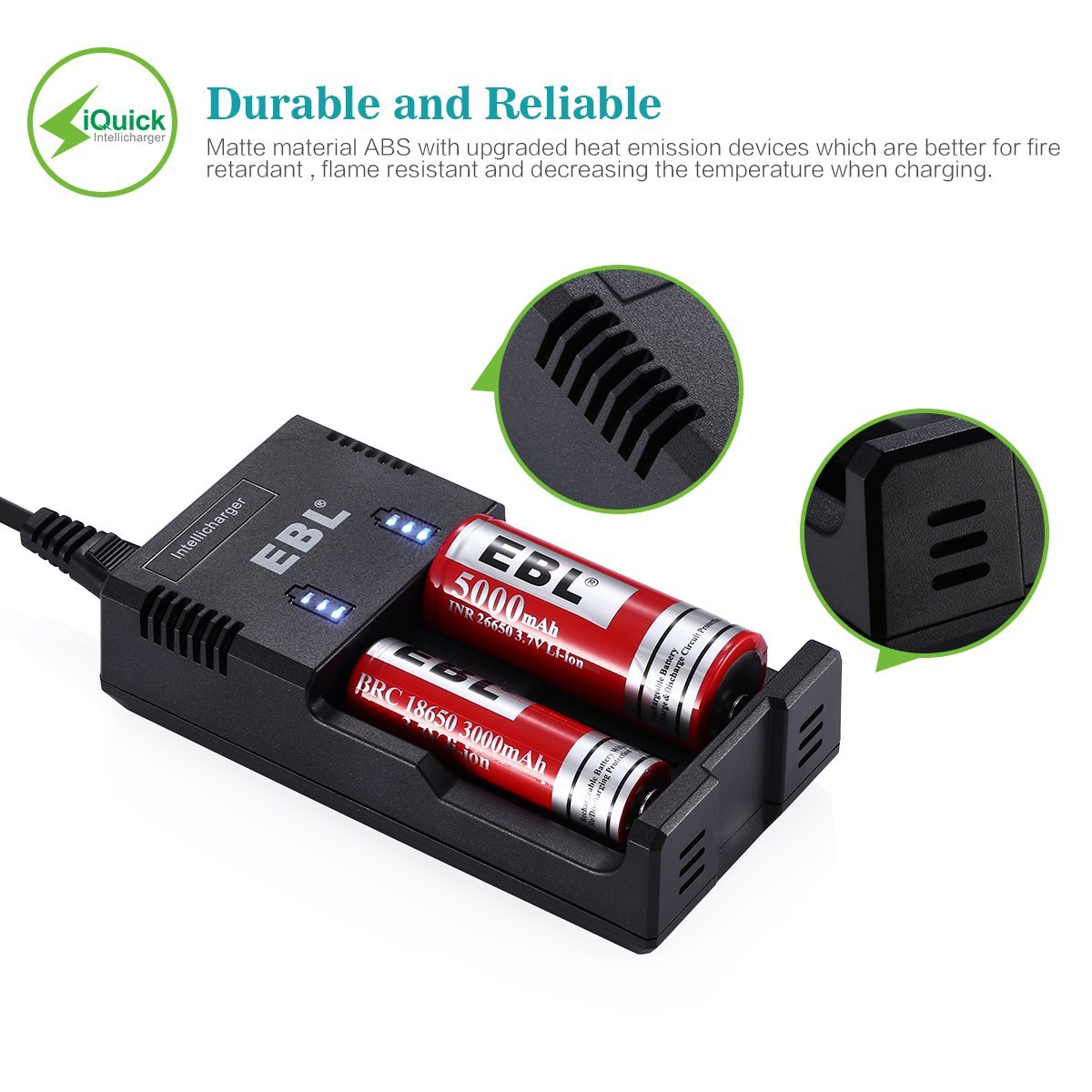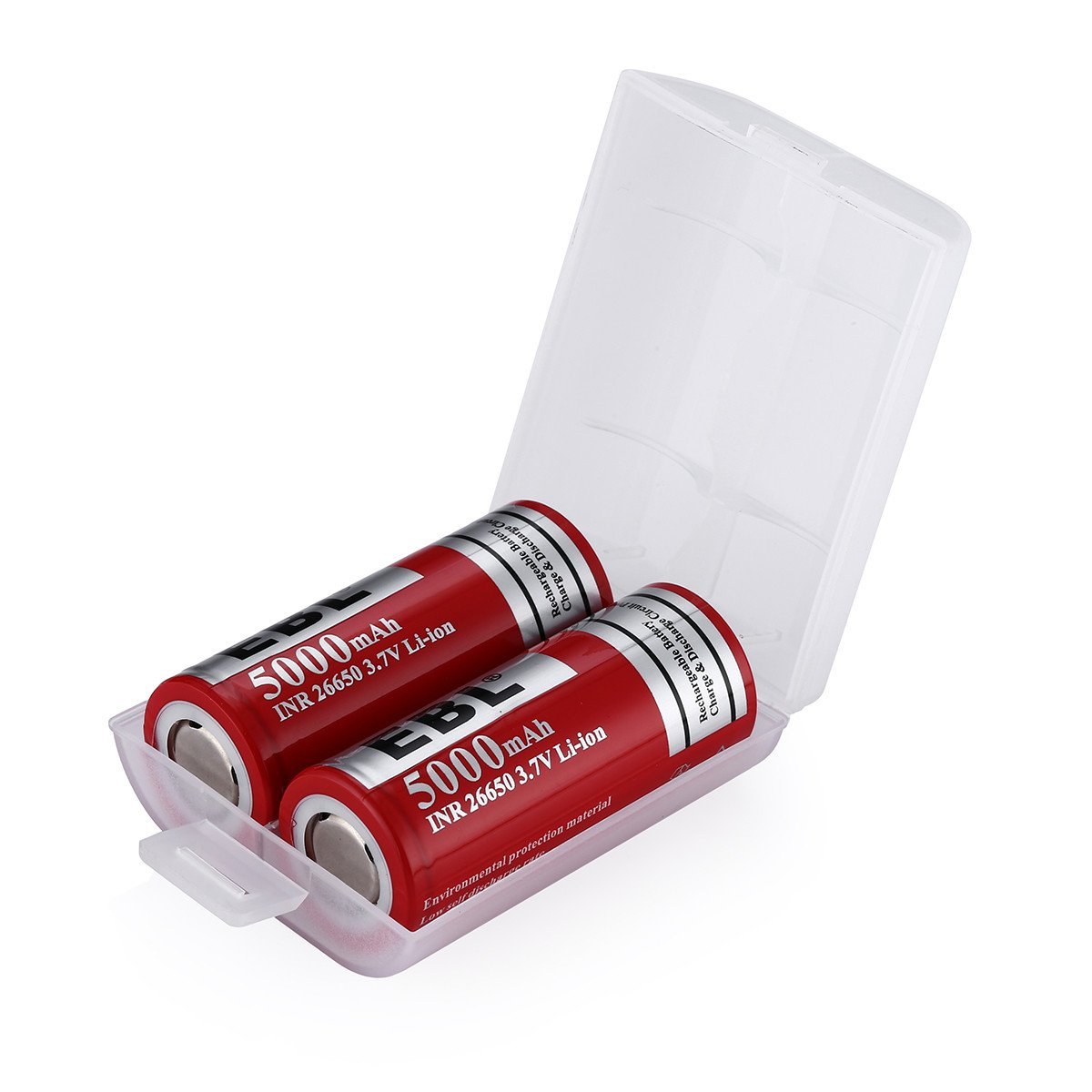 Charger Specifications:
Input: 100-240V AC 50/60Hz DC: 12V 8W
Output:
Ni-MH Ni-CD rechargeable batteries: AA, AAA, C (1.2Volt 500mA±50mA*2)
Lithium-ion rechargeable batteries: 18650, 18490, 26650, 22650, 14500, 10440, 17670, 17550, 16340 (RCR123) etc. (4.2Volt 500mA±50mA*2)
Package:
EBL 992 battery charger * 1
EBL 26650 3.7V Li-ion batteries * 2
User Manual of charger * 1
AC adapter * 1