Product Description
8-Pack Ni-MH AA Rechargeable Batteries with 4-Pack C Battery Spacers
High capacity 2800mAh rechargeable AA batteries for your electronic devices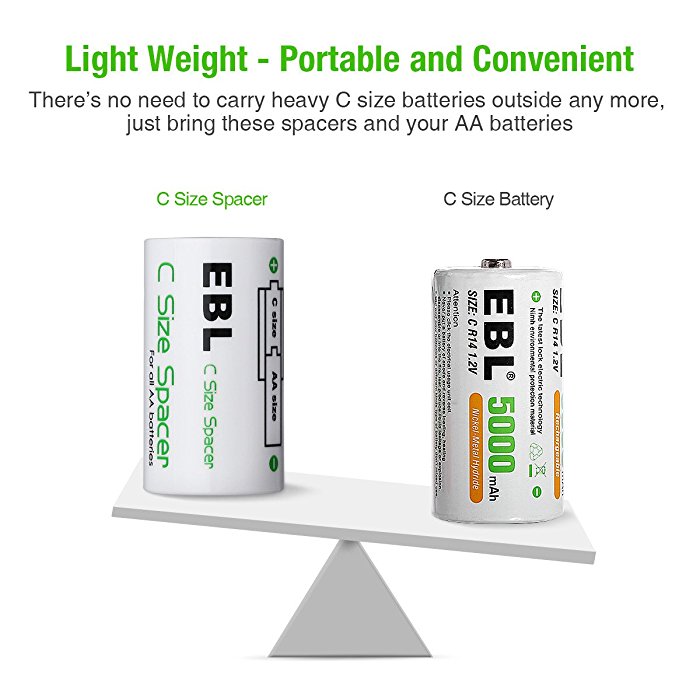 Environmentally Friendly AA Rechargeable Battery Cells
Low Self Discharge Rate: The high-performance rechargeable AA batteries have marginal self discharge effect through years of storage. The batteries can keep up to 80% capacity for over 2 years not in use.
Great Battery Longevity: The highly efficient Ni-MH AA rechargeable batteries have high quality with up to 1200 recharge cycles.
High Capacity: The rechargeable AA batteries have real capacity up to 2800mAh for your high drain devices.
Safe Rechargeable Batteries: The batteries are absolutely safe and environmentally friendly without Cd, Hd or Pb.
C Size Spacer: Recycle AA Batteries
This C size battery spacer is designed for AA batteries to become a C battery cell. The spacer is well built to perfectly fit an AA battery. The C spacer is able to turn an AA battery into a C cell for use instantly. Made of high quality ABS material, the C spacer is sturdy and durable. It can transform AA battery and in the meantime, protect them from any possible damage. The eco-friendly spacer works for most types of AA batteries, like Ni-MH, Ni-CD and alkaline.