Product Description
16-Count 2800mAh AA Rechargeable Batteries and 4-Count C Size Spacers
C Size Battery Spacers for Rechargeable Ni-MH/NI-CD/Alkaline AA Batteries with 16-Count AA Cells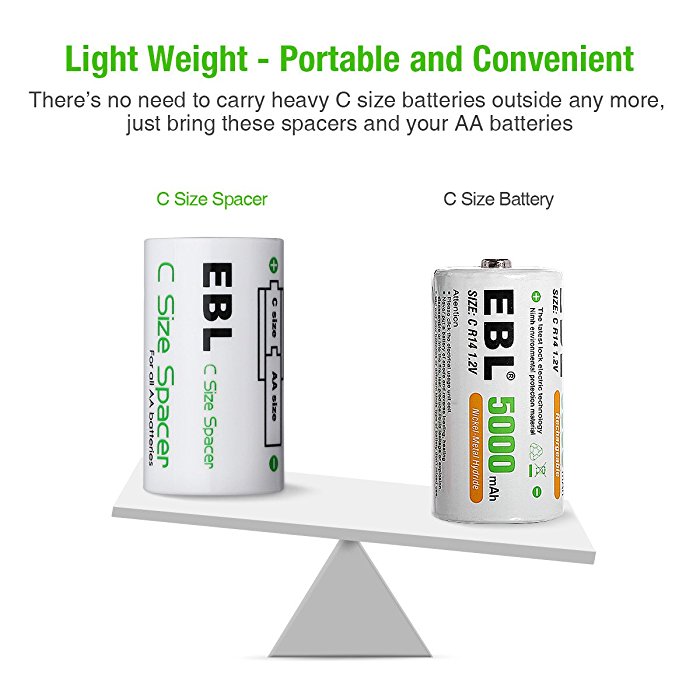 High Capacity AA Rechargeable Batteries
These 16-count AA cells are rated at high capacity 2800mAh for great battery power and efficiency.
You can enjoy the long battery life of the quality Ni-MH AA batteries with up to 1200 recharge cycles.
These environmentally friendly rechargeable AA batteries are safe, efficient and powerful.
Batteries are first-rate Ni-MH type, without harmful Hd, Cd or Pb.
These AA rechargeable batteries are very useful for a great many household devices.
Eco-friendly C Size Battery Spacers:
EBL 4-pack C size spacers are able to turn AA batteries into C battery. When you have some AA batteries, you can turn them into C batteries for your devices that require C cells. The C size battery spacer is a new invention that helps you recycle your rechargeable AA batteries. The C size battery spacers are fully compatible with AA batteries of all types, including Ni-CD, Ni-MH and alkaline. The spacers are perfectly built for AA batteries to fit in. The C size battery spacers are made of high quality ABS material for reliable protection against scratching your AA batteries.